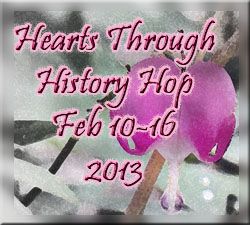 All next week I'm participating in the Valentine's Hearts Through History Blog Hop! Hop from site to site and enjoy lovey-dovey anecdotes from history to celebrate Valentine's Day. Each stop is also offering a giveaway, so be sure to click over to the rest of the sites through the links at the end of this post.
The story I want to share with you is about Edward III and his wife Philippa. Edward III was one of England's most martial kings, famous for initiating the Hundred Years' War with France. But he had a softer side too, and that side was reserved for his wife Philippa.
Edward married Philippa of Hainault when he was just sixteen years old. She was just fourteen. The marriage was arranged by Edward's mother Isabella who wanted to secure an alliance with Hainault, a county near Flanders on the continent. But although it was an arranged marriage, that does not preclude romance--out of all the available daughters of the count, Edward specifically requested that Philippa be the one for him.
Edward and Philippa had a very felicitous marriage which produced thirteen children--enough sons to later cause the inheritance problems which led to the Wars of the Roses. Edward is reputed to have been faithful to his wife until near to the end. (He took a mistress while his wife was terminally ill with dropsy, or a similar disease).
Froissart, a historian who served in Queen Philippa's court, records this story about Edward and Philippa during the siege of Calais. The year was 1348. The city had just capitulated after a year-long siege. And Edward was hopping mad that he had wasted twelve whole months trying to subdue it. He decided, at first, that he would offer the town no terms--meaning, that the citizens would likely be put to the sword. When his nobles remonstrated with him, begging him to be a merciful conqueror, he ameliorated his demands to this: that six of the leading citizens come out of the city and kneel before him with halters around their necks. Edward's nobles pleaded for mercy again, but this time he would not budge. He would have his revenge on the city of Calais--those six burghers would pay the price for their city's obstinacy. Froissart writes:
The king looked cruelly on them, for greatly he hated the people of Calais for the great damages and displeasures they had done him on the sea before. Then he commanded their heads to be stricken off: then every man entreated the king for mercy, but he would hear no man in that behalf….
Then the queen, being great with child, kneeled down and sore weeping said: "Ah, gentle sir, since I passed the sea in great peril, I have desired nothing of you; therefore now I humbly require you in the honour of the Son of the Virgin Mary and for the love of me that ye will take mercy of these six burgesses."
The king beheld the queen and stood still in a study a space, and then said: "Ah dame, I would ye had been as now in some other place; ye make such request to me that I cannot deny you. Wherefore I give them to you, to do your pleasure with them."
This story is perhaps not the usual one that comes to mind when you think of a lovey-dovey historical anecdote, but what shows greater love than this--that a king, unused to being crossed, would give up his revenge for the sake of the love that he bore to his wife? That, my friends, is a love story worth telling.
And now, one lucky person will win a copy of my book
I Serve: A Novel of the Black Prince
. Edward, Black Prince of Wales, was one of those thirteen children that Philippa bore to Edward III. He crossed the Channel with his father to wage war against France, and he was there that fateful day at Calais when his mother entreated his father's clemency. A tale of arms, of death, of love, and of honor--leave a comment on this post and fill out the form below to win!
a Rafflecopter giveaway
* * * * *
Don't forget to visit the other sites in the Hearts through History Blog Hop!