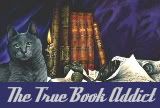 The flavor of today is bittersweet. On the one hand,
Road from the West
received an excellent review from
The True Book Addict
who called it a "well-researched and captivating account." Yesterday, the same blog offered a
giveaway
of my book and featured a
guest post
I'd written titled, "Modern Perceptions of the Crusades." What could be more exciting for an author?
On the other hand, today marks the close of the
Road from the West
blog tour with
Historical Fiction Virtual Book Tours
, and I'm a little sad to see it end. It's been a fabulous month and a half traveling the blogosphere with reviews, giveaways, guest posts, and author interviews, stopping at around 25 of the best book blogs out there. Amy Bruno, from HFVBT, has been the consummate professional in organizing this blog tour, keeping me apprised of every detail and making sure books are mailed, interview questions are answered, and reviews are posted on time. If you are a historical novelist looking for a publicity outlet, I strongly recommend HFVBT.
Thank you, thank you, thank you to all the bloggers who participated in my book tour! The help that you give to authors is invaluable as we reach out to find an audience for our work. I've greatly benefitted from both your criticisms and your accolades, and I've discovered some new favorite blogs that I'll definitely be visiting now and again.